Fostering Scaleup creation in Frankfurt by globalizing its Startup Ecosystem
In the race to become the next scaleup producer ecosystem in the world, Frankfurt is trailing behind other comparable ecosystems.
Startup Genome, in their latest ecosystem report on Frankfurt, outlined three areas which must be improved to position Frankfurt as the next big startup ecosystem.
According to the Genome report, currently, globalization is the key element lacking in the Frankfurt ecosystem. Globalization will facilitate an increase in the level of quality and ambition of founders and in turn promote rapid growth and lead to the production of more scaleups. In general, Frankfurt is already an international city and is known as one of the international financial capitals, however, the internationalism has not fully amalgamated in the startup ecosystem.
Increase Global Connectedness
Global Connectedness refers to quantifiable meaningful relationships that exist between startup leaders and how they were developed. Global Connectedness increases global market reach by bringing global know-how into an ecosystem.
"Five to ten years ago, local connectedness between the different cities and assets of the Rhine-Main region was not a priority. For example, People from Frankfurt didn't really know what was happening in Darmstadt and vice versa. Even larger Exits and Successes were not widely communicated. This has changed in recent years with the need for startup cooperation being more and more acknowledged by incumbents. Today, various institutions such as the Goethe Unibator and the Techquartier lead the community management, ensuring that incumbents and startups get together and that exchanges between startups are encouraged"
Ingo Franz
Business Angel and Partner of Kreaxi Ventures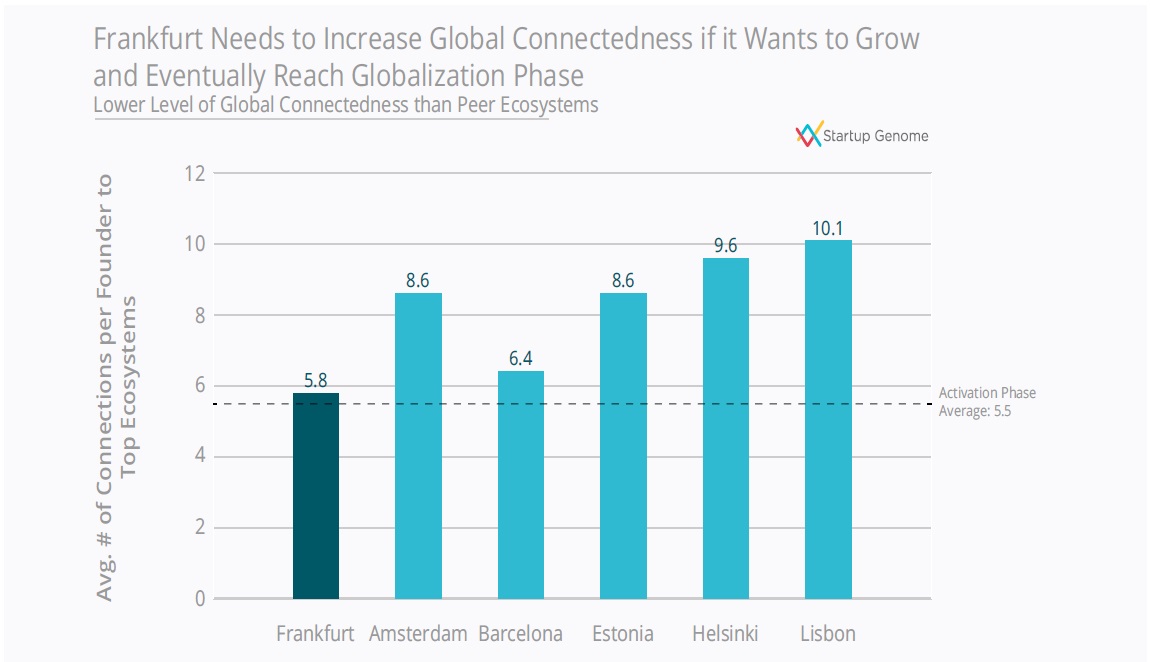 In Startup Genome's analysis, Frankfurt founders said that they often meet founders from top ecosystems locally and by traveling to those places. As a result, Frankfurt exhibits a fairly good level of global connectedness for an ecosystem that is still in the activation phase. Considering Frankfurt's position as an international city, the number should have been much higher. Additionally, the numbers must be ramped up to take Frankfurt's ecosystem to the next phase.
Founders in Frankfurt must think global
A striking characteristic that separates the scaleup firms from the non-scaleup firms is their global ambition. Scaleup firms do not limit themselves to a particular geographic territory. According to the Startup Genome report, only 17% of customers are served by Frankfurt-based startups are international (outside Europe).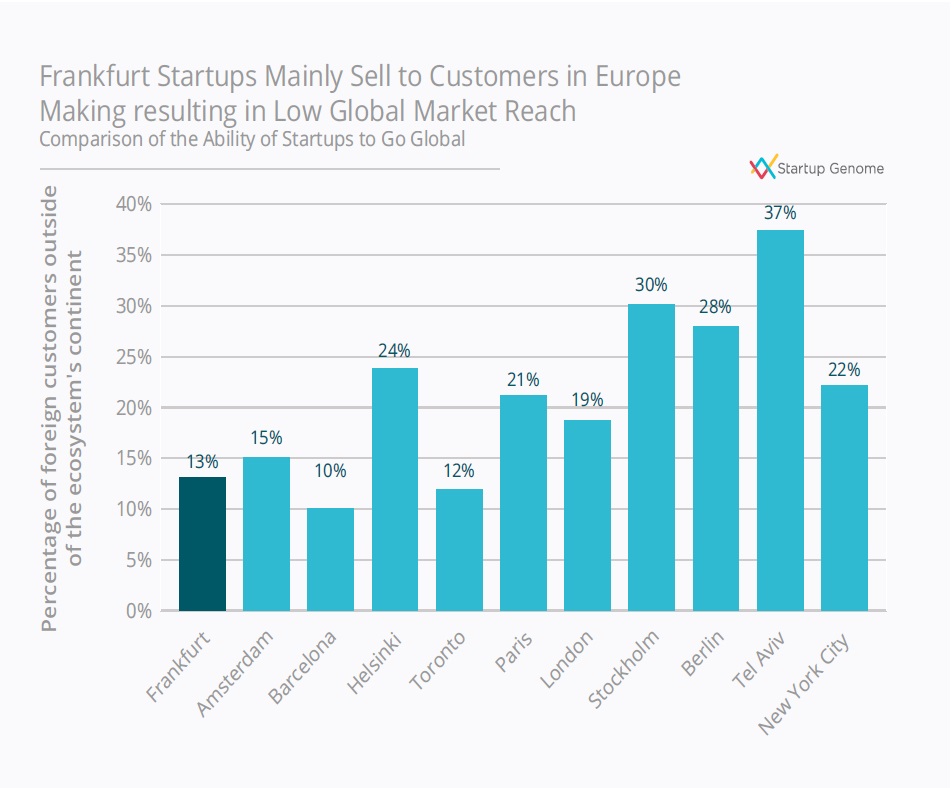 Being in the middle of an integrated market (the European Union) and in a region that has headquarters and subsidiaries of multinational companies, Frankfurt startups receive the incentive to not look beyond the European borders for customers.
To go to the next phase, it is vital for Frankfurt-based founders to have more of a global ambition. Entering global markets can be competitive but without taking the risk of going global, it will be extremely difficult for the majority of startups in Frankfurt to achieve the scaleup tag. Continuance of the current practices of focusing just on European market will limit Frankfurt's ecosystem to reach the next phase of ecosystem life cycle.
Increase the number of Immigrant Founders
Frankfurt has a high population of immigrants (In a study conducted by Germany's Office of Multicultural Affairs, more than half the population of Frankfurt in 2015 consisted of immigrants).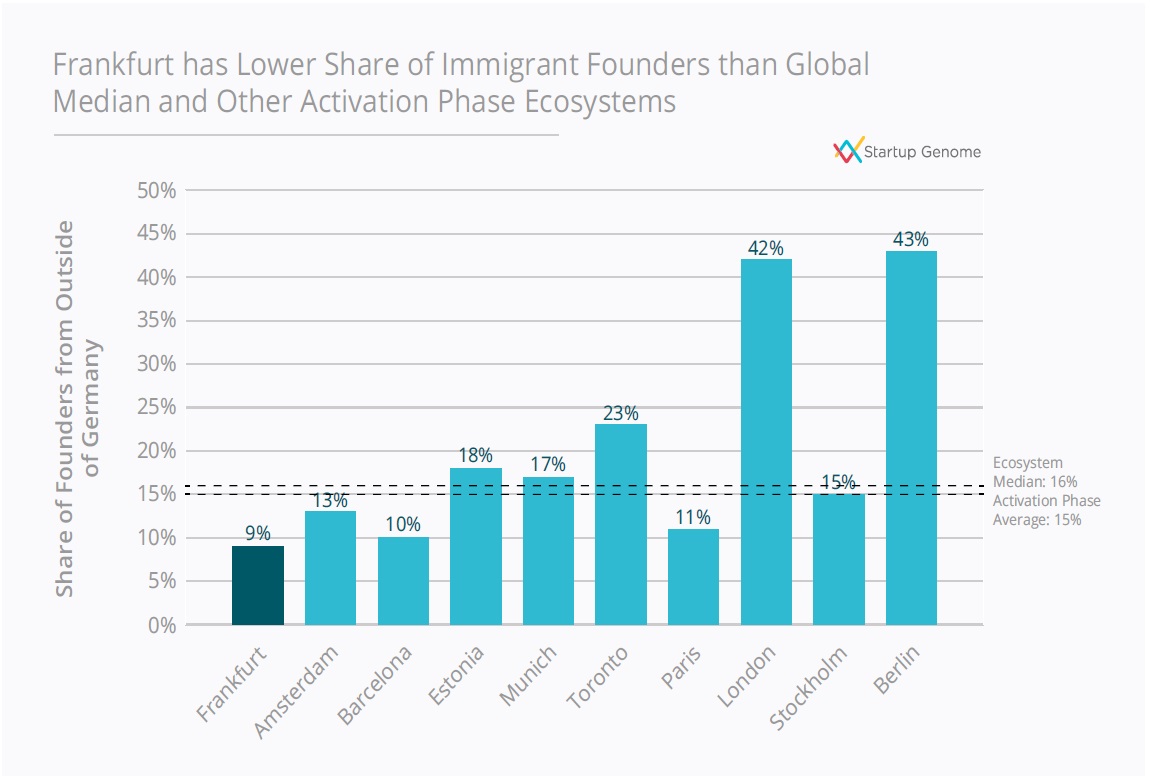 Despite having high diversity, Startup Genome reports that only 9% of tech founders come from an immigrant background. This rate is substantially lower than both the global median and average among other Activation phase ecosystems. According to an article posted in the Economist, the share of new businesses (all kinds of businesses) in Germany started by foreign passport holders has increased from 13% in 2003 to 44% in 2017.
TechQuartier
We are a team made of curious thinkers and passionate doers. We are always on the lookout for fresh new ideas, and work hard to create the conditions for the best ones to have a lasting impact on the world around us. Also, we like to tell stories. Mostly about the inspiring founders in our community, but also about our awesome startup ecosystem here in Frankfurt.